I have recently had a eBay shop and came across some gems , so I thought I would share them with you ...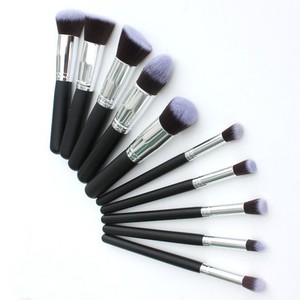 This a 10 piece makeup brush kit, it has a range of bigger brushes you could use for foundation and for setting under the eyes and buffing makeup in and then 5 smaller brushes I use for blending my eye shadows or even for blending concealer in. None of the hairs fall out of these brushes and work lovely with makeup all for £3.99.
There are many sellers on eBay sealing this product so make sure you are getting the most out of your money.
http://www.ebay.co.uk/itm/10pcs-Kabuki-Style-Professional-Make-up-Brush-Set-Foundation-Blusher-Face-Powder-/182179331204?hash=item2a6abbfc84:g:nvUAAOSwHoFXuyky
I love this brush I use if for applying my foundation when I want a good coverage on my face its very well made and I find it really easy to clean it, I will normally go in with a blending brush after using this just to make sure its all blended in well , great value for money!
http://www.ebay.co.uk/itm/Pro-Face-Makeup-Brush-Powder-Brush-Blush-Brushes-Foundation-Cosmetic-Brush-Tool/131687417437?_trksid=p2045573.c100506.m3226&_trkparms=aid%3D555014%26algo%3DPL.DEFAULT%26ao%3D1%26asc%3D38661%26meid%3D3747832e04bd4fd082d4e9dfa74d58a7%26pid%3D100506%26rk%3D1%26rkt%3D1%26
This tool is a must have when it comes to cleaning your brushes and with all these new cleaning gloves coming out at the moment this is a much cheaper version I have been using this every day since it came it makes cleaning your brushes so easy. It has a hole in the middle what allows you to put your fingers so you can really get a good scrub off your brushes !
I got these glitters off eBay they have a massive range of shades and I use either the two faced glitter glue or an eyelash glue works just as good. On eBay they have loads of deals when you buy 3 get 3 free for example and are normally priced around a pound so for 6 glitters is 3 pounds !!! They look amazing on eyes and would be good for the festival times.
http://www.ebay.co.uk/itm/METALLIC-GLITTER-POTS-FINE-NAIL-ART-CRAFT-FACE-PAINTING-TATTOO-EYE-SHADOW-/370907638870?var=&hash=item565bd16c56:m:mzGhl2CQYLPFrSBmVBaXF0w
Ebay Is the best place for buying acrylic storage. I love the lipstick holders there so good and so worth the money and can see you lipsticks much easier.